A quiet tribute was held today at MHP Medical Center in Shelbyville, as more than 50 staff members participated in the first Honor Walk at MHP Medical Center. An Honor Walk is a solemn act of recognition to an organ donor for giving the gift of life.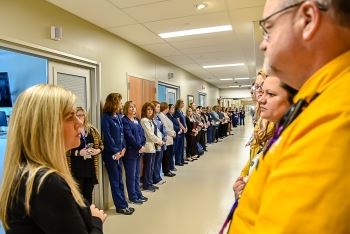 Nurses, physicians, and other support staff lined the hall of the Critical Care Unit (CCU) as organ donor Otis Carter was moved from his room in the CCU down the hall to the elevators that would take him to the operating room. His family was alongside him for each step of that journey and it was an emotional experience for all.
To raise community awareness about the impact and importance of organ donation and to further recognize the donor, a special flag was flown outside the MHP Medical Center.