MHP MedWorks Pharmacy
2123 Intelliplex Drive




Shelbyville

,

IN

46176
Hours:
Monday - Friday: 8 a.m. - 5:30 p.m.
Saturday: 8 a.m. - 12:30 p.m.
MHP MedWorks Pharmacy
MHP MedWorks Pharmacy is moving and will be closed for a few days as we transition to our new space. Please plan your medication pick-ups accordingly!
CLOSED: FRIDAY, AUGUST 25 & SATURDAY, AUGUST 26
REOPEN AT OUR NEW LOCATION: MONDAY, AUGUST 28
ADDRESS: 2123 INTELLIPLEX DRIVE • SHELBYVILLE, IN (BEHIND TEXAS CORRAL)
_______________________________________________________________________________________
Major Health Partners Helps Employees in Shelby County Maintain their Health
For employees of Major Health Partners and those who use the OnSiteSolutions clinics, prescriptions are easier than ever to get. MHP MedWorks Pharmacy is designed to help many local employees fill prescriptions at a low cost. Refills can be submitted online or via our mobile app, speeding up fill requests and helping to make the prescription process more convenient.
MHP MedWorks Pharmacy benefits:
Knowledgeable, professional pharmacy staff
Accepts all manufacturer savings cards for non-formulary medications
Convenient refills by phone/on-line/app
User-friendly app
Discounted over-the-counter store brand products
Fast, personal service with short wait times
OnSiteSolutions clinic patients: Did you know?
MHP MedWorks Pharmacy offers medication delivery to OnSiteSolutions clinic sites! This service is easily available for all medications; however, any medication that requires a co-pay must be prepaid over the phone in advance of delivery.
How We Can Help
Our pharmacy takes prescription fill requests by phone, by online submission or via mobile app. Those wishing to fill a prescription over the phone can call us directly at 317.421.2020. MHP MedWorks formulary medications are available for a $3.00 copay for insured employees of MHP. For OnSiteSolution clinic formularies, please contact the pharmacy. For more information, you can find an alphabetical list of medication formularies for MHP employees here and a class-based list of medication formularies here.
If you have a prescription to fill, you can submit it online by filling out the form below.
MedWorks Pharmacy is open Monday through Friday from 8am-5:30pm and Saturday from 8am – 12:30pm. We are located behind Texas Corral.
2123 Intelliplex Drive | Shelbyville, IN 46176
_______________________________________________________________________________________
Medworks Pharmacy offers the Pfizer COVID-19 Vaccine
MedWorks Pharmacy ONLY offers the Pfizer COVID-19 Vaccine.
Appointments are available by calling 317-421-2020.
Walk-ins are accepted
Vaccine Clinic Days:
Tuesday 9:00 a.m. - 5:00 p.m.
Wednesday 9:00 a.m. - 5:00 p.m.
Thursday 9:00 a.m. - 5:00 p.m.
Friday 9:00 a.m. - 5:00 p.m.
Schedule your COVID-19 Vaccine Appointment
MHP MEDWORKS COVID-19 VACCINE INFORMATION
---
Quick Refill
Refill a prescription with Medworks Pharmacy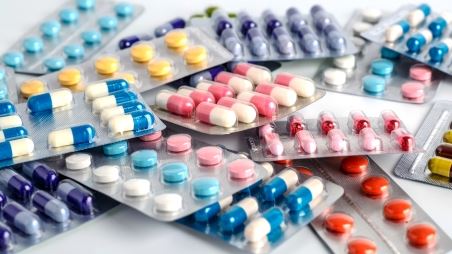 We Updated Your Refill Experience
Access your refills and manage prescriptions with our newly optimized Patient Portal
Prescription Fill & Refill Requests