MHP COVID-19 Daily Update
DATE: April 28, 2020
Need a Telehealth Visit?: https://www.mymhp.org/services/virtual-visits/
GENERAL UPDATES FOR THE PUBLIC:

Main Entrance Door #2: Starting Monday, the Main Entrance will close at 6PM instead of 5PM.

SUPPLY UPDATES:

Our supplies and PPE are steady and stable, but deliveries are sporadic and varied.
We need your empty hand sanitizer bottles. We are making our own hand sanitizer and need your empty containers in order to reuse.
Do you have items that you would like to donate? (hand sanitizer, masks, respirators, gloves, N95, bouffant caps, or gowns). If so, please contact Angela Gill (agill@majorhospital.org)
Food Donations: Several community supporters have called to offer to donate food for our staff and physicians. Some are also doing it as a way to support those restaurants who are struggling to stay afloat while they are only open for carryout. We are extremely grateful for all the community support and selfless gestures. If you would like to find out more information, please contact Angela Gill (agill@majorhospital.org).

PATIENTS TREATED AT OUR RESPIRATORY CLINIC LOCATIONS:

Priority Care located at 30 W. Rampart Road: Priority Care treated 15 patients yesterday with respiratory signs/symptoms. Priority Care is open 7AM-7PM Monday through Friday and 8AM-2PM on Saturdays and Sundays.
Washington St. Clinic located at 157 W. Washington St: Washington St Clinic treated 13 patients yesterday with respiratory signs/symptoms. Washington St. Clinic is open 8AM to 4:30PM Monday through Friday.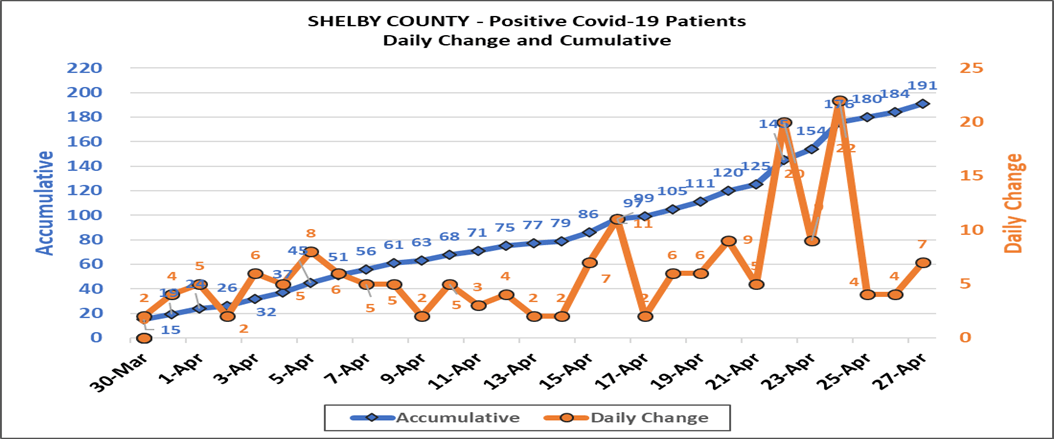 TESTING AVAILABILITY:

Number of available swabs/media for testing: 212 (plus an additional 300+ GuideMed tests between Priority Care/Washington St Clinic). We received 100 Fisher testing kits as well, which can be used for any lab other than GuideMed.

MHP INPATIENT STATUS:

Current number of 3rd floor inpatients: 22
Current number of patients with respiratory related diagnoses: 20 (4 patients on a critical care vent and 0 on BiPap and 1 on a trilogy device)
Number of available beds: 18
Number of inpatients in the ACC unit: 6 with 16 beds available

MHP EMERGENCY DEPT STATUS:

Number of ER patients in last 24 hours: 39
Number of ER patients with respiratory signs/symptoms: 5 (representing 13%)

RESOURCES:

https://www.mymhp.org/services/virtual-visits/ or 392-DOCS (answered 24/7)
Indiana State Dept of Health Call Center for Healthcare workers and the general public (staffed 8AM-8PM) (317) 233-7125. Please call (317) 233-1325 after hours.
For the Shelby County Health Department, please call (317) 392-6470.