It's been said that athletic trainers will influence more young people in a year than most will in a lifetime. March is National Athletic Training Month and we'd like to recognize the work and dedication of the MHP athletic trainers (ATCs). They are highly-qualified, multi-skilled health care professionals who collaborate with Dr. Joel Jaeger of MHP Sports Medicine to provide care to our student athletes. Not be confused with personal trainers, ATCs academic curriculum and clinical training follows a medical model and they must obtain a bachelor's degree or higher from an accredited institution.
MHP ATCs work very hard behind the scenes caring for our local student athletes. They're always along the sidelines, providing immediate emergency care, should an injury occur. ATCs improve outcomes and can often help shorten rehabilitation times. They also educate student athletes on measures of preventative care to reduce injuries.
Partnering with Shelbyville High School, the MHP onsite athletic training (AT) program began in the year 2000. Over the last 19 years other county high schools have since adopted the AT program. For the past 11 years, MHP ATCs have been at all five Shelby County high schools and for the past three years there has been a trainer at Shelbyville Middle School. The ATCs also cover wrestling and football events at Triton Central Middle School as well.
The ATCs at Shelbyville High School and Triton High School are at every practice and every home game. They also travel with the football teams to away games. Morristown/Waldron and Southwestern/Shelbyville Middle School split two full time ATCs that cover most practices and home events. When home events overlap at an ATC's shared schools, an additional on-call trainer is available to help them.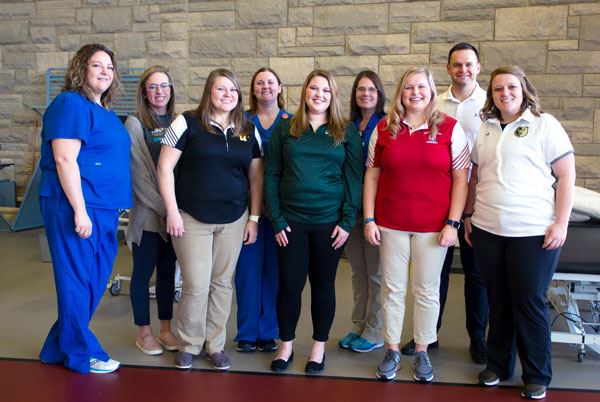 Working under the direction of Dr. Jaeger, the ATCs simplify care for patients by adding a direct line of contact to the sports medicine doctor. Dr. Jaeger is the designated Shelby County School Physician and makes weekly visits to the area schools to care for athletes. He also attends home football games at SHS and Triton. Dr. Jaeger has an in office Athletic Training Coordinator that works directly with the ATCs at the schools and the students when they come in the office to be seen. This care model enables smooth scheduling, enhanced communication and stronger patient connections, which is easier for the parents too.
Here's current list of the Athletic Trainers (ATCs) employed by MHP. We have 5 full time trainers and 5 PRN (as needed) trainers. If you see any of the people on this list, be sure to give them a high five in recognition of all that they do! Happy National Athletic Training Month to our ATCs!
LaKisha Jones LAT, ATC, MS - Morristown & Waldron Jr/Sr High Schools - 10 years with MHP
Chasity Wilson LAT, ATC, MS - Shelbyville High School - 3 years with MHP
Kelli Amrhein LAT, ATC - Southwestern Jr/Sr High School/Shelbyville Middle School - 3 years with MHP
Breanna Burcham LAT, ATC - Triton Central High School - 3 years with MHP
Tara Humphreys LAT, ATC - Coordinator of Athletic Training Services - 13 years with MHP
PRN
Sydney Posz
Laura Barkes
Tyler Baker
Kylie Martindale
Phil Butler