To better understand the needs of its community, MHP started its first-ever Patient and Family Advisory Council (PFAC) in January 2018. The PFAC—made up entirely of MHP patients and their loved ones—provides guidance and feedback to MHP about its care and services. In just nine months, PFAC has seen terrific progress. Among many projects, their patient-centered input has prompted:
• Simpler-to-understand post-operative recovery instructions
• Expanded access to health education videos for more patients
• The addition of handicap parking spaces to the main parking lot
Sound interesting?
To join the PFAC or learn more, please click here. The PFAC meets one evening a month at the MHP Medical Center to share ideas over dinner.
Apply directly here: MHP Patient and Family Advisory Council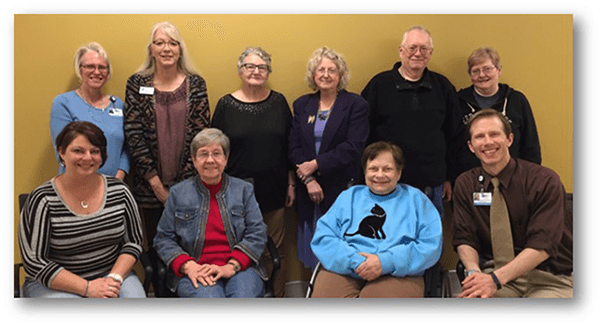 Pictured here are current PFAC Council Members.
Upper row (L to R): Janie Schuster, Cindy Johnson, Nancy Trapp, Jayne Emmerick, Gary Snyder, Kathleen Snyder
Lower row (L to R): Angela Smith, Penny Hall, Ginni Tutterow, Joshua Georgen